What is a City Hub?
City Hubs are multipurpose centres spread throughout various parts of the city, which house a mix of infrastructure and applications. The key to this concept is that several hubs are needed, at different geographical scales; hubs at regional, city, district, neighbourhood level which are interconnected and better satisfy their communities needs.
What elements do City Hubs contain? They offer a variety of components,  with the modular smart pole being a central element and a first step for their realisation. A smart pole is shaped like a traditional lightning pole, but equipped with many more capabilities. Apart from automating light, it enables additional features such as 5G connectivity, provision of WiFi, incorporated sensors for real-time environmental monitoring, information board, an emergency communications centre, inhouse e-batteries for a better and connected mobility, or even provide a landing/take-off post for delivery drones. At the same time, as this infrastructure is connected and can translate information from the surrounding environment to virtual data, it can also monitor its own status and condition and enable predictive maintenance, drastically reducing its operational costs and sustainability.
City Hubs can also serve as Mobility Hubs located outside busy areas where different modes of transport meet and shared mobility is organised and realised to decrease congestion and greenhouse gas emissions. Applications for shared driving, charging stations and parking spots in the Mobility Hub, electric bicycles and scooters and transportation drones can reduce private car ownership, parking pressure in the public realm, carbon emissions, and lead to a reclaiming of the public street space!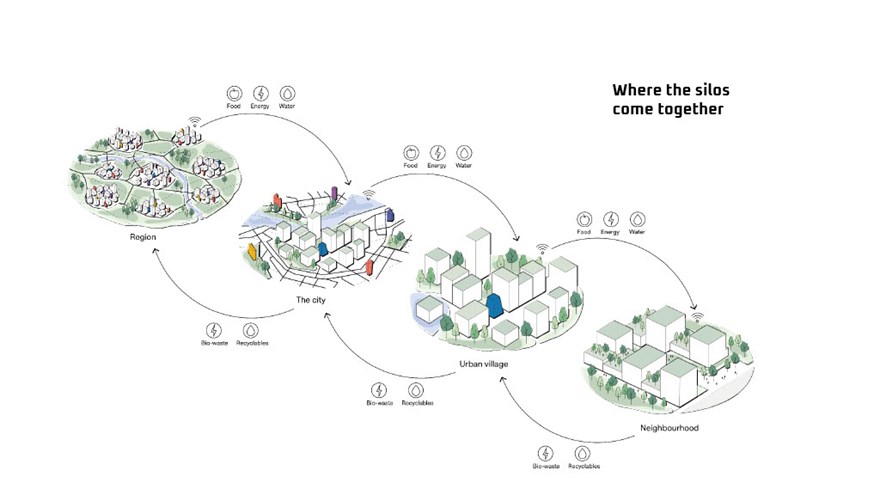 What are the benefits for the city?
Manage the flow of the city in the most effective way; offloading of services and logistics from the centre to peripheries
Resilient and future proof cities through the modularity of the infrastructure (adding/removing elements); modularity and scalability are key to adaptability
Predictive maintenance and low operational cost
Variety of cost-effective services to local community, with potential to evolve according to changing community needs
Inclusiveness, for people living in remote areas with limited access to urban centres
Build better and more integrated services
CO2 impact by making green and shared mobility more accessible 
Facilitating last mile deliveries
City Hubs can also serve as meetings points; with a coffee or fitness centre and/or other services; building more cohesive and resilient communities
What are the steps you need to take?
Essentially, it's one: getting in touch with the Digital Toolbox!
Depending on the needs of your city and the community, we can come up with a solution that fits your organisation and current goals. All you need to do is define the purpose and use case for which you want to use City Hub. The Digital Toolbox is then here to help you with procuring your need, finding the right suppliers and integrating the solution; all in a seamless way!
More info on the particular steps here.
The Digital Toolbox is the portal to Next Generation Solutions (NGSs): the future of technology in the city made simple and easy. Our company, Serendipity develops NGSs with ecosystem partners from industry and academia in order to create future proof solutions to address the challenges of (local) governments, campuses and other organisations. Future proof solutions provide the ability to change, expand, or remove parts of the system in order to adapt to changing needs and circumstances. In that way vendor lock-ins are prevented and the costs for software will stay low over time!